Meet Mochi the Jellyfish
This kit includes everything you need to make your own jellyfish in either purple or blue! Plus a full-length video tutorial to walk you through each step!
Crochet Kit
Pattern Collections
Extreme Patterns
Shop Extreme
Cuddle-Sized Patterns
Shop Cuddle-Sized
Pocket-Sized Patterns
Pefect for holding and stashing away
Shop Pocket-Sized
Other Patterns
Don't fall into any category but are just as cute
Shop Other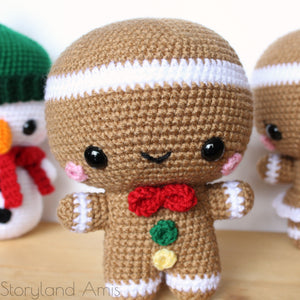 Christmas Patterns
'Tis the season to crochet . . . always!
Shop Christmas
Bundle Packs
Even more cuteness for even less!
Shop Bundles
Share the love
Pattern is easy to follow and the results are great! My giraffe turned out just like the picture. Some little child will adore him. Very nice pattern.

Eva Peeples
Very well written and contains very detailed instructions. I also like the option to crochet or use felt for the eye. Zippy is the cutest sloth!

Irene
Freddy the fox is so adorable! I've made three so far and the pattern is easy to read with very clear instructions. Holly does an amazing job of also adding a ton of pictures which really helps guide you along.

Eringlezcrochet